Maryland Women's Hall of Fame Awardees Bobo

2021
Maryland Women's Hall of Fame
Honoree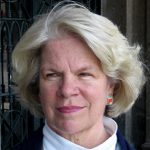 Elizabeth "Liz" Bobo
Politician, Maryland's First Female County Executive
Nominated by the Howard County Historical Society, Ellicott City, MD

Elizabeth "Liz" Bobo was the first woman to be elected to the office of County Executive in the state of Maryland, making Howard County the first in the state to have a woman as its chief executive. Liz also served as a member of the Howard County Council for two terms and as a member of the Maryland House of Delegates representing a district of that county for 20 years. During her many years in public office, Liz focused on social, economic, and environmental justice.
Elizabeth Gilner was born in Baltimore on December 21, 1943. Her mother, Helen, though not having completed her fourth year in high school, was in Liz' words "one of the most widely read people I have ever known." She was the main influence in Liz' choosing literature as her major at the University of Maryland. Liz' father, Bernard, "Barney" to Liz, worked as the head of the photo engraving department at the Times Herald newspaper in Washington D.C. He died at an early age from Parkinson's disease.
After graduating from high school, Liz earned a B.A. in Literature from the University of Maryland. She attributes her choice of that major to having observed her Mom's deep love of literature.
Married in the early 60's, Liz and her husband, Clifford Bobo, had two children – Christine and Clifford. When the children began elementary school, Liz became involved in public policy in Howard County. She returned to the University of Maryland, earning a Juris Doctor degree in 1981 and later was admitted to the Maryland Bar.
In 1977, Bobo was appointed to fill a vacancy on the Howard County Council. She won election to that seat the following year and served until 1986 when she was elected as the County Executive of Howard County, the first woman in Maryland to attain that office. During her tenure, the county received its first AAA bond rating and national recognition for its innovative method of preserving farmland, the installment purchase agreement, which was later adopted by numerous other counties across the nation experiencing the pressure of rapid growth and development. Her administration also initiated considerable preservation of historic sites and buildings, particularly in Historic Ellicott City along the Patapsco River Valley.
Following her service in Howard County, Governor Schaeffer appointed Liz as the Assistant Secretary for Programs in the Maryland Department of Human Resources where she worked for several productive years. When an attractive state legislative district opened up as a result of the redistricting that followed the 2000 census, she sought public office again. In 1993 Liz married Lloyd Knowles, a recognized land use planning advocate with whom she had served on the County Council years before. In 1994, Bobo was elected to the Maryland House of Delegates, where she became a leading legislator on justice in financial regulation, representing a district comprised of mostly West Columbia.
Liz Bobo has recieved many awards over the years of her extraordinary public service and leadership and was inducted into the Howard County Women's Hall of Fame in 1997.
"It was an honor to be elected as the first woman to serve as County Executive in the State of Maryland, giving me the opportunity to achieve accomplishments in the areas of social, economic, and environmental justice for all, regardless of gender or race. Now it is another great honor to be included in the Maryland Women's Hall of Fame."
Maryland Commission for Women
51 Monroe Street, Suite 1034
Rockville, Maryland 20850
301-610-4523