Safe Haven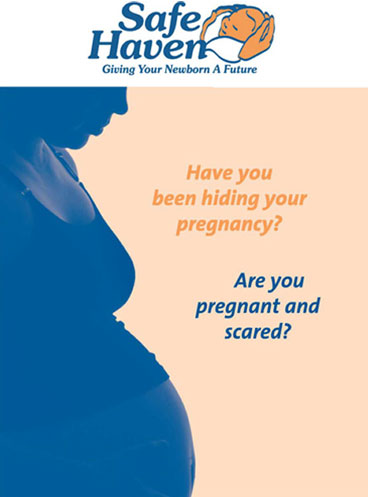 What is Safe Haven?
In Maryland, no one ever has to abandon a newborn baby. Under the Safe Haven law, a distressed parent who is unable or unwilling to care for their infant can safely give up custody of their baby, no questions asked. Newborns can be left at hospitals or law enforcement stations, some of which are listed below.
A parent (or another adult with the approval of the mother) has up to 10 days from the birth to invoke Safe Haven anonymously and safely leave a baby with a responsible adult at a designated location. A person who invokes Safe Haven is immune from civil liability or criminal prosecution provided the child is unharmed.
If you have questions about Maryland's Safe Haven law, call the Department of Human Resources at 800-332-6347 or your local department of social services.
Flyers
Location
Address

Allegany County – Hospital

Western Maryland Regional Medical Center
12500 Willbrook Road
Cumberland, MD 21502-3797

Allegany County – Police Stations

Allegany Co. Sheriff's Office
695 Kelly Road
Cumberland, MD 21502

Cumberland Police Department
20 Bedford Street
Cumberland, MD 21502

Frostburg Police Department
37 S. Broadway
Frostburg, MD 21532

Anne Arundel County – Hospitals

Anne Arundel Medical Center
2001 Medical Parkway
Annapolis, MD 21401

University of MD Baltimore Washington Medical Center
301 Hospital Drive
Glen Burnie, MD 21061-5899

Anne Arundel County – Police Stations

Annapolis Police Department
199 North Taylor Ave
Annapolis, MD 21401

Anne Arundel County Police Dept
8495 Veterans Highway
Millersville, MD 21108

Eastern District Headquarters
204 Mountain Road
Pasadena, MD 21122

Northern District Headquarters
939 Hammonds Lane
Baltimore, MD 21225

Western District Headquarters
8273 Telegraph Road
Odenton, MD 21113

Southern District Headquarters
35 Stepneys Lane
Edgewater, MD 21037

Anne Arundel County Sheriff's Office
8 Church Circle
Annapolis, MD 21401

Maryland State Police
610 Taylor Avenue
Annapolis, MD 21401

Maryland State Police
6800 Aviation Blvd
Glen Burnie, MD 21061

Baltimore City – Hospitals

Bon Secours Hospital
2000 W. Baltimore Street
Baltimore, MD 21223

MedStar Good Samaritan Hospital of MD
5601 Loch Raven Blvd.
Baltimore, MD 21239

MedStar Harbor Hospital Center
3001 S. Hanover Street
Baltimore, MD 21225

Johns Hopkins Bayview Medical Center
4940 Eastern Avenue
Baltimore, MD 21224

Johns Hopkins Hospital and Health System
1800 Orleans Street
Baltimore, MD 21287

University of MD Medical Center Midtown Campus
827 Linden Avenue
Baltimore, MD 21201

Mercy Medical Center
345 St. Paul Place
Baltimore, MD 21202

Mt. Washington Pediatric Hospital
1708 W. Rogers Avenue
Baltimore, MD 21209

St. Agnes Hospital
3455 Wilkens Avenue
Baltimore, MD 21229

Sinai Hospital of Baltimore
2401 W. Belvedere Avenue
Baltimore, MD 21215

MedStar Union Memorial Hospital
201 E. University Parkway
Baltimore, MD 21218

University of MD Medical Center
22 S. Greene Street
Baltimore, MD 21201

Baltimore City – Police Stations

Baltimore City Police Central District
500 E. Baltimore Street
Baltimore, MD 21202

Southeast District
5710 Eastern Avenue
Baltimore, MD 21224

Eastern District
1620 Edison Highway
Baltimore, MD 21213

Northeast District
1900 Argonne Drive
Baltimore, MD 21218

Northern District
2201 W. Coldspring Lane
Baltimore, MD 21209

Northwest District
5271 Reisterstown Road
Baltimore, MD 21215

Western District
1034 N. Mount Street
Baltimore, MD 21217

Southwestern District
424 Font Hill Avenue
Baltimore, MD 21223

Southern District
10 Cherry Hill Road
Baltimore, MD 21225

Baltimore County – Hospitals

Greater Baltimore Medical Center
6701 N. Charles Street
Baltimore, MD 21204

Northwest Hospital
5401 Old Court Road
Randallstown, MD 21133

University of MD St. Joseph Medical Center
7601 Osler Drive
Towson, MD 21204

Sheppard Pratt Health System
6501 N. Charles Street
Baltimore, MD 21204

Franklin Square Hospital Center
9000 Franklin Square Drive
Baltimore, MD 21237

Baltimore County – Police Stations

Baltimore Co. Police Headquarters
700 E. Joppa Road
Towson, MD 21286

Precinct 1
901 Walker Avenue
Catonsville, MD 21228

Precinct 2
6424 Windsor Mill Road
Woodlawn, MD 21207

Precinct 3
606 Nicodemus Road
Reisterstown, MD 21136

Precinct 4
215 Milford Mill Road
Pikesville, MD 21208

Precinct 6
115 W. Susquehanna Avenue
Towson, MD 21204

Precinct 7
111 Wight Avenue
Cockeysville, MD 21030

Precinct 8
8532 Old Harford Road
Parkville, MD 21234

Precinct 9
8220 Perry Hall Blvd.
Baltimore, MD 21236

Precinct 11
216 N. Marlyn Avenue
Essex, MD 21221

Precinct 12
428 Westham Way
Baltimore, MD 21224

MD State Police
8908 Kelso Drive
Essex, MD 21221

Calvert County – Hospital

Calvert Memorial Hospital
100 Hospital Road
Prince Frederick, MD 20678

Calvert County – Police Stations

Calvert Co. Sheriff's Office
30 Church Street
Prince Frederick, MD 20678

MD State Police
210 Main Street
Prince Frederick, MD 20678

Caroline County – Hospitals

University of MD Shore Medical Center @ Dorchester
300 Bryn Street
Cambridge, MD 21613

University of MD Shore Medical Center @ Chestertown
100 Brown Street
Chestertown, MD 21620

Caroline County – Police Stations

Caroline County Sheriff's Office
101 Gay Street
Denton, MD 21629

Denton Police Department
100 N. 3rd Street
Denton, MD 21629

Carroll County – Hospital

Carroll Hospital Center
200 Memorial Avenue
Westminster, MD 21157

Carroll County – Police Stations

Carroll County Sheriff's Office
100 N. Court Street
Westminster, MD 21157

Taneytown Police Department
120 E. Baltimore Street
Taneytown, MD 21787

Westminster City Police
36 Locust Street
Westminster, MD 21157

MD State Police
1100 Baltimore Blvd.
Westminster, MD 21157

Cecil County – Hospital

Union Hospital
106 Bow Street
Elkton, MD 21921

Cecil County – Police Stations

Cecil Co. Sheriff's Dept.
107 Chesapeake Blvd., Suite 112
Elkton, MD 21921

MD State Police
15 Turnpike Drive
Perryville, MD 21903

Charles County – Hospital

University of MD Charles Regional Medical Center
5 Garrett Avenue
La Plata, MD 20646

Charles County – Police Stations

Charles Co. Sheriff's Office
6915 S. Crain Highway
La Plata, MD 20646

La Plata Police Dept.
101 LaGrange Avenue
La Plata, MD 20646

MD State Police
9500 Mitchell Road
La Plata, MD 20646

Dorchester – Hospital

University of Maryland Shore Medical Center at Dorchester
300 Bryn St
Cambridge, MD 21513

Dorchester – Police Stations

Dorchester Co. Sheriff's Office
829 Fieldcrest Road
Cambridge, MD 21613

Cambridge Police Department
8 Washington Street
Cambridge, MD 21613

Frederick County – Hospital

Frederick Memorial Healthcare System
400 West Seventh Street
Frederick, MD 21701

Frederick County – Police Stations

Frederick Co. Sheriff's Office
110 E. Airport Drive
Frederick, MD 21701

Thurmont Police Department
800 E. Main Street
Thurmont, MD 21788

Frederick City Police Department
100 W. Patrick Street
Frederick, MD 21701

MD State Police
110 E. Airport Drive
Frederick, MD 21701

Garrett County – Hospital

Garrett County Memorial Hospital
251 North Fourth Street
Oakland, MD 21550

Garrett County – Police Stations

Garrett Co. Sheriff's Office
311 E. Alder Street
Oakland, MD 21550

Oakland Police Department
15 S. 3rd Street
Oakland, MD 21550

MD State Police
67 Friendsville Road
Mc Henry, MD 21541

Harford County – Hospitals

University of MD Harford Memorial Hospital
501 S. Union Avenue
Havre de Grace, MD 21078

University of MD Upper Chesapeake Medical Center
500 Upper Chesapeake Drive
Bel Air, MD 21014

Harford County – Police Stations

Harford Co. Sheriff's Office
45 S. Main Street
Bel Air, MD 21014

Northern Precinct
3726 Norrisville Road
Jarrettsville, MD 21084

Southern Precinct
1305 Pulaski Highway
Edgewood, MD 21040

Aberdeen Police Department
60 N. Parke Street
Aberdeen, MD 21001

Bel Air Police Department
39 Hickory Avenue
Bel Air, MD 21014

MD State Police
1401 Bel Air Road
Bel Air, MD 21014

Howard County – Hospital

Howard County General Hospital
5755 Cedar Lane
Columbia, MD 21044

Howard County – Police Stations

Howard Co. Police Northern District
3410 Courthouse Drive
Ellicott City, MD 21043

Southern District
11226 Scaggsville Road
Laurel, MD 20723

Long Reach Community Office
8775 Cloudleap Ct., Suite M
Columbia, MD 21045

Harper's Choice Community Office
5485 Harper's Farm Road
Columbia, MD 21045

North Laurel Community Office
9411 Whiskey Bottom Road
Laurel, MD 20703

Oakland Mills Community Office
5820 Col. Robert Oliver Place
Columbia, MD 21045

Wilde Lake Community Office
10451 Twin Rivers Road
Columbia, MD 21044

Main Street Community Office
8267 Main Street
Ellicott City, MD 21043

MD State Police
7777 Washington Blvd.
Jessup, MD 20794

Kent County – Hospital

University of Maryland Shore Medical Center at Chestertown
100 Brown Street
Chestertown, MD 21620

Kent County – Police Stations

Kent Co. Sheriff's Office
104 Vickers Drive, #B
Chestertown, MD 21620

Chestertown Police Department
601 High Street
Chestertown, MD 21620

Montgomery County – Hospitals

Holy Cross Germantown Hospital
19801 Observation Drive
Germantown, MD 20876

Adventist HealthCare Germantown Emergency Center
19731 Germantown Road
Germantown, MD 20874

Holy Cross Hospital
1500 Forest Glen Road
Silver Spring, MD 20910

Montgomery Medical Center
18101 Prince Philip Drive
Olney, MD 20832

Adventist HealthCare Shady Grove Medical Center
9901 Medical Center Drive
Rockville, MD 20850

Suburban Hospital
8600 Old Georgetown Road
Bethesda, MD 20814

Adventist HealthCare White Oak Medical Center
11890 Healing Way
Silver Spring, MD 20904

Montgomery County – Police Stations

Montgomery Co. Police Dept. 1st District
100 Edison Park Drive
Gaithersburg, MD 20878

2nd District
4823 Rugby Ave
Bethesda, MD 20814

3rd District
1002 Milestone Drive
Silver Spring, MD 20904

4th District
2300 Randolph Road
Wheaton, MD 20902

5th District
20000 Aircraft Drive
Germantown, MD 20874

6th District
45 W. Watkins Mill Road
Gaithersburg, MD 20878

MD State Police
7915 Montrose Road
Rockville, MD 20854

Prince George's County – Hospitals

Doctors Community Hospital
8118 Good Luck Road
Lanham, MD 20706

Fort Washington Medical Center
11711 Livingston Road
Fort Washington, MD 20744

Laurel Regional Hospital
7300 Van Dusen Road
Laurel, MD 20707

Prince George's Hospital Center
3001 Hospital Drive
Cheverly, MD 20785

MedStar Southern Maryland Hospital Center
7503 Surratts Road
Clinton, MD 20735

Prince George's County – Police Stations

Prince George's Co. Police Dept. District I
5000 Rhode Island Avenue
Hyattsville, MD 20781

District II
601 SW Crain Highway
Upper Marlboro, MD 20774

District III
7600 Barlowe Road
Landover, MD 20785

District IV
5135 Indian Head Highway
Oxon Hill, MD 20745

District V
6707 Groveton Drive
Clinton, MD 20735

District VI
4321 Sellman Road
Beltsville, MD 20704

District VII
11108 Fort Washington Road
Fort Washington, MD 20744

MD State Police
3500 Forestville Road
Forestville, MD 20747

MD State Police
10100 Rhode Island Avenue
College Park, MD 20740

Queen Anne's County – Hospital

University of MD Shore Medical Center @ Chestertown
100 Brown Street
Chestertown, MD 21620

Queen Anne's County – Police Stations

Queen Anne's County Sheriff's Office
505 Railroad Avenue
Centreville, MD 21617

Centreville Police Department
420 N. Commerce Street
Centreville, MD 21617

MD State Police
311 Safety Drive
Centreville, MD 21617

Somerset County – Hospital

McCready Memorial Hospital
201 Hall Highway
Crisfield, MD 21817

Somerset County – Police Stations

Somerset Co. Sheriff's Dept.
30426 Sam Barnes Road, #A
Westover, MD 21871

Princess Anne Police Department
11780 Beckford Avenue
Princess Anne, MD 21853

MD State Police
30581 Perry Road
Princess Anne, MD 21853

St. Mary's County – Hospital

MedStar St. Mary's Hospital
25500 Point Lookout Road
Leonardtown, MD 20650

St. Mary's County – Police Stations

St. Mary's Co. Sheriff's Office
23150 Leonard Hall Drive
Leonardtown, MD 20650

MD State Police
23200 Leonard Hall Drive
Leonardtown, MD 20650

Talbot County – Hospital

University of Maryland Shore Medical Center at Easton
219 South Washington Street
Easton, MD 21601

Talbot County – Police Stations

Talbot Co. Sheriff's Office
115 W. Dover Street
Easton, MD 21601

MD State Police
7053 Gateway
Easton, MD 21601

Washington County – Hospitals

Meritus Medical Center
11116 Medical Campus Road
Hagerstown, MD 21742

Washington County – Police Stations

Washington Co. Sheriff's Department
500 Western Maryland Parkway
Hagerstown, MD 21740

Boonsboro Police Department
241 Potomac Street
Boonsboro, MD 21713

Hagerstown Police Department
50 N. Burhans Blvd.
Hagerstown, MD 21740

Hancock Police Department
126 W. Main Street
Hancock, MD 21750

Smithsburg Police Department
21 W. Water Street
Smithsburg, MD 21783

MD State Police
18345 Col. Henry K. Douglas Drive
Hagerstown, MD 21740

Wicomico County – Hospital

Peninsula Regional Medical Center
100 E. Carroll Street
Salisbury, MD 21801

Wicomico County – Police Stations

Wicomico Co. Sheriff's Office
401 Naylor Mill Road
Salisbury, MD 21804

Delmar Police Department
400 S. Pennsylvania Avenue
Delmar, MD 21875

Fruitland Police Department
208 S. Division Street
Fruitland, MD 21826

Salisbury Police Department
699 W. Salisbury Parkway
Salisbury, MD 21803

MD State Police
2765 N. Salisbury Blvd.
Salisbury, MD 21801

Worcester County – Hospital

Atlantic General Hospital
9733 Healthway Drive
Berlin, MD 21811

Worcester County – Police Stations

Worcester Co. Sheriff's Office
1 W. Market Street, #1001
Snow Hill, MD 21863

Berlin Police Department
10 Williams Street
Berlin, MD 21811

Ocean City Police Department
6501 Coastal Highway
Ocean City, MD 21842

Pocomoke City Police Department
1500 Market Street
Pocomoke City, MD 21851

Snow Hill Police Department
216 W. Green Street
Snow Hill, MD 21863

MD State Police
9758 Ocean Gateway
Berlin, MD 21811