Maryland Women's Hall of Fame Awardees Moone

2021
Maryland Women's Hall of Fame
Honoree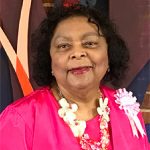 The Reverend Dr. Ruby Reese Moone
Human Rights Activist
Nominated by Jodi Finkelstein, Executive Director
Montgomery County Commission for Women

The Reverend Dr. Ruby Reese Moone is Pastor of The Sweet Hour Of Prayer Ministry in Rockville, Maryland where she is a resident, who has dedicated her life to civil and human rights. Born in segregation-era Georgia in 1938, Rev. Moone was the sixth of ten children born to Alexander Reese, Sr. and Annie Bundridge Reese. She did not often attend school as a child because she and her siblings would help their parents, who were sharecroppers, chop and pick cotton. Despite her attendance record (or perhaps because of it), Rev. Moone was a diligent student and excellent reader, skipping several grades as a child and excelling in high school.
One of Rev. Moone's earliest experiences with racism was having to walk seven miles each way to and from her segregated school while White students rode the bus. Rev. Moone's experiences of poverty and systemic racism motivated her to attend college to help her family, church, and community. She majored in sociology and pre-professional social work. Upon graduation in 1959, Rev. Moone worked in Georgia as a high school Guidance Counselor.
Rev. Moone's political advocacy began at the height of the civil rights movement in the American south. In partnership with her husband, she started working with Dr. Martin Luther King Jr. in the Southern Christian Leadership Conference (SCLS) and Vernon Jordan in the National Association for the Advancement of Colored People (NAACP). She participated in the demonstrations across the south, including the Selma to Montgomery March across the Edmund Pettus Bridge with John Louis that inspired the passage of the Voting Rights Act of 1965.
Rev. Moone and her husband organized efforts to register people to attend the March on Washington, which sparked her interest in moving to the Washington, D.C. area, settling in Montgomery County. Rev. Moone was hired as a Guidance Counselor at Poolesville High School where she authored a proposal for the Montgomery County Public Schools to establish Career Center to assist students in college, technical institutes and career preparation. Her work has been immensely impactful for Maryland students and youth. Dr. Moone chaired the District 17 Scholarship Committee for many years awarding thousands of dollars to many students in that district. She retired after working forty years as a Guidance Counselor and parents established The Ruby Reese Moone Foundation to provide textbook assistance for low income college students.
Dr. Moone and her late husband were leaders in establishing the Montgomery County Maryland chapter and the Maryland State Unit of the Southern Christian Leadership Conference. She was the first female chair of the Montgomery County Dr. Martin Luther King, Commemorative Committee and the Maryland State President of the Southern Christian Leadership Conference.
Dr. Moone has received many honors and awards including the Woman of Distinction, induction into The Montgomery County Maryland Human Rights Hall of Fame, and recognition as one of five National Women of the Dream. She was a special invitee to the White House under President Bill Clinton and was an official guest at the White House when President George H. Bush signed the No Fear Act.
Rev. Moone was married to the late Rev. James Clark Moone, Ph.D. for forty years. Rev. Moone has two daughters and six grandsons. Her most passionate expression:
"We are commissioned to elevate all the people."
(Derived from The Holy Bible, The Great Commission, Matthew 28:19-20)
Maryland Commission for Women
51 Monroe Street, Suite 1034
Rockville, Maryland 20850
301-610-4523