Maryland Young Leader's Awardees Hammond

2021
Maryland Young Women Leaders
Honoree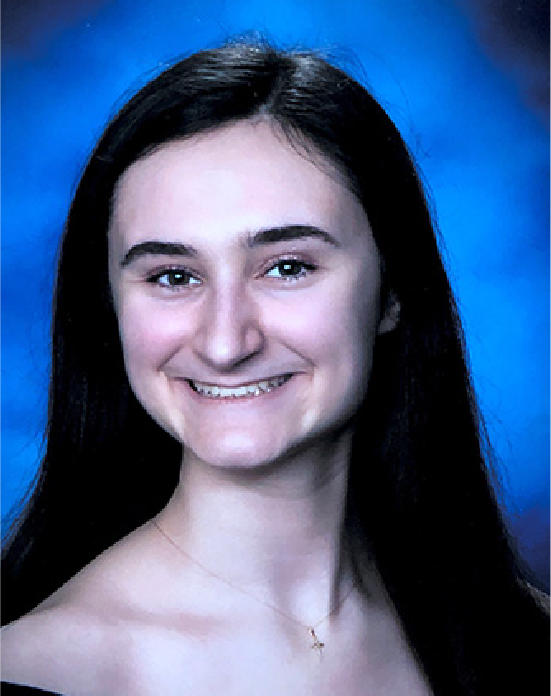 Georgia Hammond
12th Grade, Hereford High School Baltimore County
Nominated by Laura Bankey, Vice President of Conservation Programs,
National Aquarium

Georgia is a graduating senior. She is a straight-A student, earning a perfect 4.0 Grade Point Average while taking six Advanced Placement classes and six dual enrollment college classes. She is a member of five national honor societies and is the president of the Science National Honor Society at her school.
Georgia pursues engineering projects that have community-wide impact. During her sophomore year, she led a team of aspiring women engineers to a first-place finish regionally, and second-place finish nationally in the Society of Women Engineers (SWE) Next Generation Design Competition. Her team tackled the issue of agricultural runoff in the Chesapeake Bay watershed by encapsulating algae in permeable spheres for use as biofilters. Georgia designed and, with her team, delivered a hands-on class to 385 elementary school students, modeling the power of women in engineering and emphasizing the importance of environmental protection. Georgia and her teammates founded the first SWE club at her school, leading activities designed to encourage young women to pursue engineering endeavors.
During her junior year, Georgia pitched her plan for a satellite ground station to the Maryland Space Grant Consortium, ultimately winning its support as a financial stakeholder in her project. Georgia established the first active SatNOGS (Satellite Networked Open Ground Station) in Maryland, allowing scientists around the globe to access data transmitted by low Earth orbit satellites.
Georgia intends to study biology and engineering in college, with plans to pursue a career dedicated to reducing human impact on the environment.
"Welcoming change allows us to surf over the ever-shifting waters instead of
being swept away by the waves."
Maryland Commission for Women
51 Monroe Street, Suite 1034
Rockville, Maryland 20850
301-610-4523