PA2E – Ribbon Cutting KINGSWRAP, LLC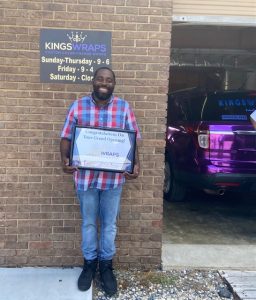 Dalton Mackall, Owner of Kings Wraps, LLC and graduate of the Fall 2021 PA2E class, celebrated the opening of his custom car wrapping business in Huntingtown, Maryland on Monday, August 8, 2022. Dalton, Wendy Tonic (DHS), Bill Hittie (SBDC Consultant) and the Calvert Chamber all worked collaboratively to ensure Dalton's success in the program as well as leading up to the Ribbon Cutting Event.
Kings Wraps, LLC is a vehicle wrapping and detailing business. The facility can hold up to three vehicles, has a rest room, a waiting room, one office, one and ample shelving and storage for materials. The space is still a work in progress but the vision is clear and his dream is attainable. At the Ribbon Cutting event, Dalton shared his personal and professional journey which led him to where he is today. With the assistance of Wendy, who was essential in navigating all the moving parts, Dalton is now the proud owner of a custom wrapping business. Kudos to you, Dalton.