Yun Jung Yang, Esq.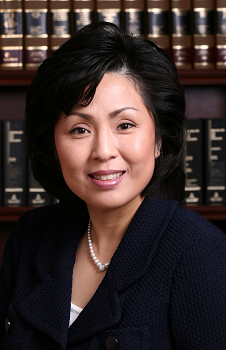 Yun Jung Yang was appointed to the Maryland Commission for Women in October 2015, and was elected chair in June 2018. She is the Managing Partner of Law Offices of Yun Jung Yang, LLC, a Silver Spring-based boutique firm specializing in immigration law. Ms. Yang has more than two decades of experience in providing immigration-related legal counsel to domestic and foreign companies and to foreign individuals and investors. She received her J.D. from Howard University School of Law and is admitted to practice law in Maryland and the District of Columbia. She is fluent in English and Korean.
In addition to her work on the state Commission for Women, Ms. Yang is active in the community and currently is the Chair of the American Red Cross National Diversity Advisory Council and Executive Vice President for the Korean American Women's Society of Maryland. She served as a Commissioner for the Maryland Governors Commission of Asian Pacific American Affairs (2011-2015), President of the Korean American Women's Chamber of Commerce (2011-2012), and Commissioner on the Montgomery County Commission for Women (2002-2008) where she focused on raising awareness of the special needs of immigrant women for policy makers and service providers in the state of Maryland and Montgomery County. In 2006, she was awarded the Women of Achievement Award by the Montgomery County Business & Professional Women. From 2002 through 2003, Ms. Yang served as a Legal Advisor to the Washington, D.C. office of KOTRA (Korea Trade Center).
For the past three years, she has co-chaired and chaired the Maryland Commission for Women's Voices of Maryland Women Listening Tour project, and served on the Maryland Women's Hall of Fame Committee, the Women of Tomorrow Committee and the Education and Outreach Committee.