Maryland Young Leaders Awardee Gabrielle

2022
Maryland Young Women Leaders Honoree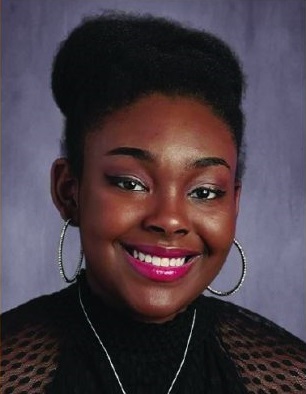 Gabrielle Moore
11th Grade, St. Charles High School, Charles County
Nominated by Justin Ryan, School Counselor, St. Charles High School

Gabrielle Elise Moore is an 11th grade Honors and AP student at St. Charles High School in Waldorf, Maryland where she serves as the Student Government Vice President. She currently has a 4.4 GPA and has always had high honors (including straight As all three years of middle school). She is representing St. Charles for the second year as a Model UN Liaison (after placing second overall in 2021), and was selected for the Mock Trial Team as the key defense witness.
Gabrielle was recently appointed to the Charles County Youth Advisory Council, and serves as the Environmental Affairs Chair of the Charles County Association of Student Councils. She has interned for Congressman Steny Hoyer for the past two years. Gabrielle is the Teen President for the Southern Maryland Chapter of Jack and Jill of America. In addition, she is the First Vice President and "Miss Top Teen" of the Southern Maryland Chapter of Top Teens of America. She is also Financial Secretary for Top Teens Area II, and the Charles County NAACP Youth Council Secretary.
Gabrielle has participated in several prestigious academic and leadership programs, including with the United Nations, the U.S. Naval Academy, Harvard University, Spelman College, Maryland Leadership Workshop, Howard University and Hampton University. Gabby was inducted into the National Junior Honor Society in 2018 and is applying for membership in the National Honor Society in 2022. She is currently an Ambassador with the Young Black Leadership Alliance and a member of the National Society of High School Scholars. Gabrielle has aspirations of one day combining her loves of science and law into a successful career. She and her family are members of Alfred Street Baptist Church in Alexandria, Virginia.
In less than two years, Gabrielle overcame two traumatic injuries. The first was an injury to her right (dominant) hand in middle school while playing volleyball. With her right hand in a cast, Gabrielle taught herself to write with her left hand and maintained her perfect 4.0 average. In her first few months of high school, Gabrielle dislocated her knee and spent months on crutches. She eventually had knee replacement surgery – followed by months of grueling physical therapy. Once again, Gabrielle maintained high honors and her extracurricular activities.
The world has an abundance of many things, except for kindness.
Maryland Commission for Women
51 Monroe Street, Suite 1034
Rockville, Maryland 20850
301-610-4523