Maryland Young Leaders Awardee Indu
2023
Maryland Young Women Leaders Honoree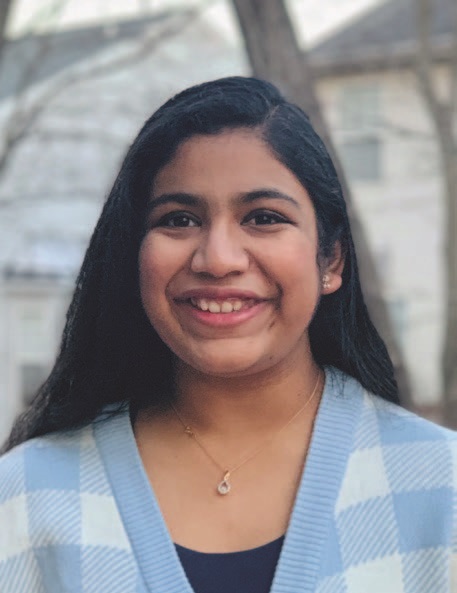 Indu S. Bodala
11th Grade, Glen Burnie High School, Anne Arundel County
Nominated by Shirley Wais, Signature Program Coordinator, Anne Arundel County Public Schools

Indu S. Bodala is a dedicated student who has a passion for learning and service to her community. She is currently one of four representatives from her school on the county Student Service Learning Leadership Team (SSLLT).
Indu was raised by her grandmother until she was 4, while her parents advanced their careers. Her grandmother strongly believed in instilling strong cultural roots and beliefs, so she placed an emphasis on teaching Indu her mother tongue, Telugu from a young age before she learned English.
When Indu entered the school system she was placed in ESOL. Indu shared that she felt alienated and incompetent in her academic mastery. Her determination and love for learning pushed her to grow and eventually she developed a love for literature, which helped her with her language learning. This love for literature and learning has provided her with the tools she has used to develop into an amazing young leader. She is now enrolled in honors and AP classes.
Indu is a part of the Biomedical Medical Allied Health Magnet (BMAH) at Glen Burnie, Vice President of the Student Government Association: (2021-2022 and 2022-2023), Principal's Advisory, Treasurer of the French National Honor Society, National Honor Society, President of the National Science Honor Society, National Math Honor Society, Vice President of school chapter and a State Officer Health Occupations Students of America (HOSA), Interact (service learning club), Chief Editor Newspaper, and Head coordinator of the Equity Leadership Team.
Indu participates in a number of community service activities. She's a part of the Joint Commission on the Opportunity Gap, serving as the student commissioner, appointed by her County Executive and school system Superintendent. The commission works to bridge educational inequities and gaps faced by minority students. She also serves on the Chesapeake Regional Association of Student Councils as the Secretary of Service (2021-2022), Vice President (2022-2023), Student Service Learning Leadership Team, Mental Health Teen Advisory for the Board of Education: Appointed by her school Principal, Teen Advisory for The Superintendent, Youth Feminist Task Force Maryland Chapter.
Indu is passionate about student advocacy, service to others, and promoting equity and inclusion in our school community as well as within AACPS. She stands apart from her peers as a student leader working to create a better world for students and the residents of Anne Arundel County. Indu's contributions will leave a lasting impression on her peers, teachers, and her community.
"The key to ending bigotry is embarking on a journey of education and an immersion of the world around you. Open your eyes, ears, and heart, embrace the differences, and uncover the ugly."- Indu S. Bodala
Maryland Commission for Women
51 Monroe Street, Suite 1034
Rockville, Maryland 20850