Maryland Women's Hall of Fame Awardees Richarson


Gloria Richardson (1922 – 2021),
Civil Rights Activist
Nominated by Tya Young, Grand daughter

Gloria Richardson was the first woman in the country to lead a grassroots Civil Rights organization outside of the deep south. She helped found – and lead – the Cambridge Nonviolent Action Committee (CNAC) during a period of civil unrest more that 50 years ago caused by racism and lingering segregationist practices.
One of the most influential leaders of the Civil Rights Movement, even at the age of 99, she was a towering figure in American history. Throughout her life, she spoke truth to power and continued to inspire people around the world – and in her hometown.
Ms. Richardson's story began in Baltimore during the Depression. Born to John and Mabel Hayes in 1922, She and her family moved to Cambridge, Maryland when she was six. Her mother's family – the St. Clairs – were prominent and politically active. Her grandfather – Herbert St. Clair – owned real estate, operated numerous businesses and was the sole African American member of the City Council.
At the age of 16, Ms. Richardson left Cambridge to attend Howard University. She graduated in 1942 with a B.A. in Sociology and worked for the federal government during World War II. When the war ended, she returned to Cambridge. Despite her degree and intelligence, no agencies would hire a black social worker. She married Harry Richardson, a local schoolteacher, and was a homemaker for 13 years while raising their children.
Her formal foray into the Civil Rights Movement grew from her daughter Donna's participation in protests of segregation and racial inequality in Cambridge. Ms. Richardson helped form – and was selected to lead – the Cambridge Nonviolent Action Committee, a civil rights campaign in her hometown.
She advocated economic justice, demanding not only racial desegregation but also good jobs, housing, schools, and health care. She was an early supporter of the use of violence in self-defense when necessary. In an iconic photo, she is seen boldly pushing away a national guardsman's rifle after Maryland Governor Millard Tawes enacted martial law.
In July 1963 – while her city was still under the Guard's police presence – she met with U.S. Attorney General Robert Kennedy to negotiate the "Treaty of Cambridge," an agreement covering desegregation, housing and employment issues. The following month, she took to the stage at the pivotal March on Washington, one of six "Negro Women Fighters for Freedom" on the program; however, the male organizers permitted none of the female freedom fighters a turn at the microphone.
As a steadfast and resolute leader of this human rights campaign, she developed effective strategies and used creative tactics to advance Black liberation, working to dismantle Maryland's system of white supremacy that, among other offenses, denied Black people access to public accommodations and fair employment opportunities, and access to adequate housing and healthcare. Never willing to compromise on Black people's rights, Ms. Richardson became a model of leadership for younger activists, especially women, from all racial backgrounds.
In 2017, the state of Maryland honored her legacy by dedicating February 11 as "Gloria Richardson Day," making her the only living person on record in the state to have an official day declared by a governor in her honor. Today, visitors to Cambridge are greeted by an image of Gloria Richardson boldly demanding justice. One of dozens of African Americans featured on a 50' x 20" mural, she is prominently placed left of center next to Dorchester native and Underground Railroad conductor Harriet Tubman.
Even up to her last moments, she maintained the same radical demeanor to civil rights activism that she held for decades. As she watched from her New York City apartment window, she was inspired by the younger generation, of multiple races, protesting for racial equality after the killing of George Floyd.
"A first-class citizen does not beg for freedom.  A first-class citizen does not plead to the power structure to give him something that the whites have no power to give or take away. Human rights are human rights, not white rights." — Gloria Richardson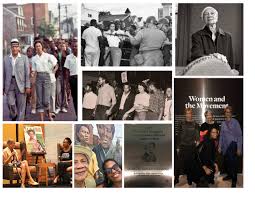 Maryland Commission for Women
51 Monroe Street, Suite 1034
Rockville, Maryland 20850
301-610-4523