Training
The Maryland Department of Human Services is committed to a workforce that is supported and equipped to meet the needs of substance exposed newborns and their families. This commitment includes enhancing staff knowledge about SENs, coordination of services, reducing stigma, and facilitating cross-system communication among agencies and community providers serving SEN and families impacted by substance use.
SEN and Substance Use Disorder (SUD) Events
Medication for Opioid Use Disorder (MOUD) and Substance Exposed Newborn (SEN) Live Staff Development Fall 2021 Webinar Series SSA will present the Medication for Opioid Use Disorder (MOUD) and SEN Webinar Series starting October 8, 2021. Serving families affected by substance use and opioid use disorders requires a cross-system approach. Many of these family's interact with multiple systems including child welfare, substance use disorder treatment, courts, healthcare, and other community agencies. Professionals representing these systems may lack knowledge about each other's services and the unique needs of the families that they collectively serve.
These staff development webinars are focused to help professionals increase their knowledge and skills to work with families affected by substance use and opioid use disorders as well help build cross-systems collaboration across the various agencies serving families. The webinars will be facilitated by local and national experts in the field.
Social Work CEU's will be offered
View the attached flyer for webinar sessions offered and to register
Target Audience: Child welfare CPS, In-Home, and Out-of-Home program staff serving SENs and parents with substance use and opioid use disorders.
health providers- addiction counselors, peer recovery specialists and clinical social workers including Medication for Opioid Use Disorder (MOUD) treatment program staff.
The Impact of the Opioid Crisis: Research Study
The rates of opioid use in Baltimore City have been high for decades. Baltimore City currently ranks the highest in opioid overdose among all urban cities nationwide and fifth in the nation for opioid use by pregnant women. Consequently, the number of infants born with neonatal abstinence syndrome increased four-fold in the last 10 years. The research staff are trained community outreach workers who will administer a needs assessment survey either virtually via a video teleconference (e.g., WebEx or Zoom) or in person at substance use disorder program. The survey will ask the participant about their housing and community safety, stressful life events, adverse childhood experiences and trauma, stigma with opioid use, perceived needs, and use of available services.
The purpose of this study is to improve the quality of care for children aged five and younger who have a mother or female caregiver who is dealing with opioid use currently or in the past. The specific aims are to identify the needs of victims of the opioid crisis, to assess the use of resources and services available to meet these needs, and to ascertain any gaps in resources and services underpinning unmet needs.
Contacts:
Sabrina Malachi at 443-615-1076 or smalachi@som.umaryland.edu Olawunmi Ibraheem at oibraheem@som.umaryland.edu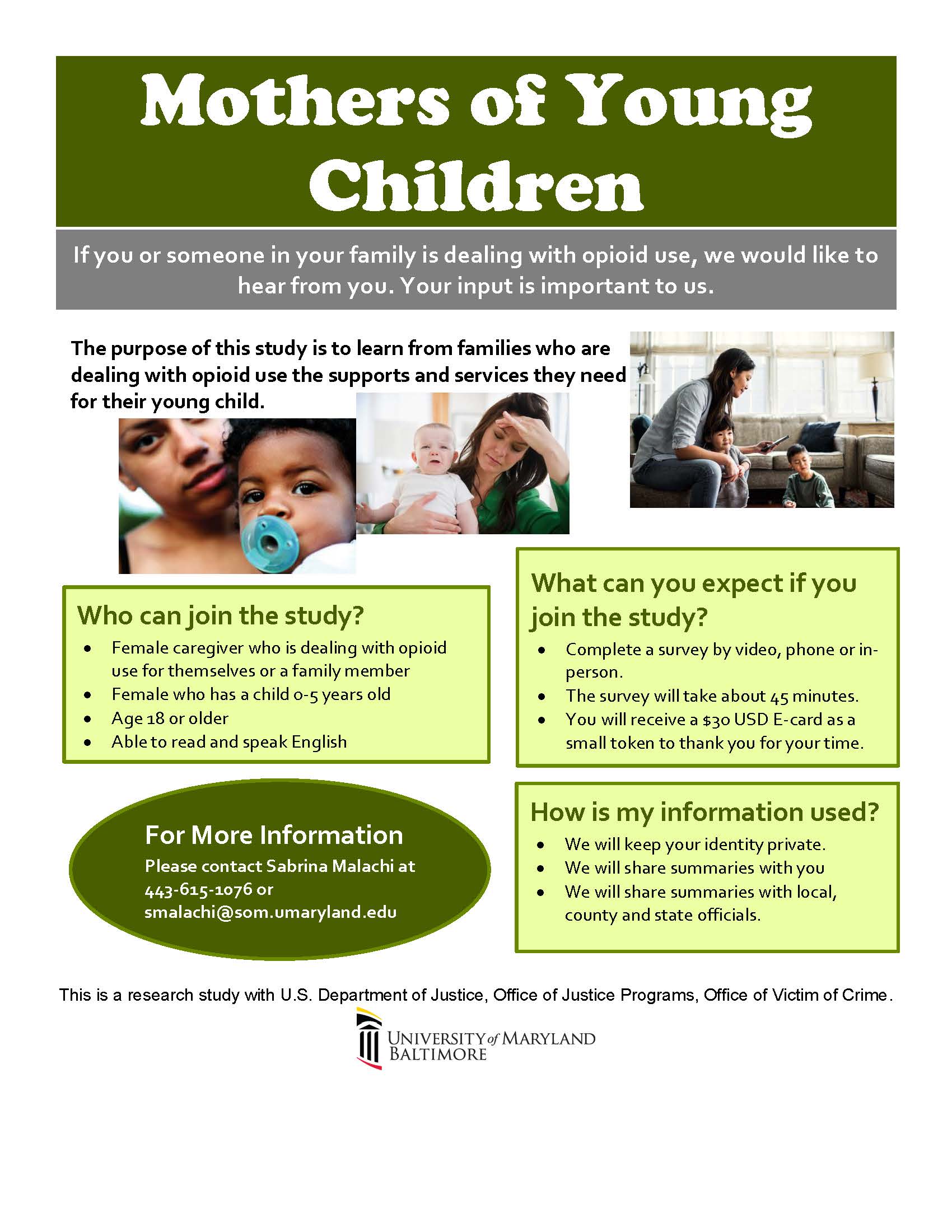 SEN Training Calendar
Suggested resources and external websites are provided for informational purposes and are not maintained or endorsed by the Maryland Department of Human Services or any local department of social services. Please be aware that, when you use an external link, you will no longer be in this State of Maryland website.